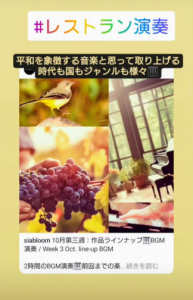 2時間のBGM演奏🎹前回までの楽曲への追加分を掲載📝
今月生まれの音楽家作品と、谷村新司さん追悼で「三都物語」をJRのCMメドレーに🎹
ウクライナ侵攻が始まって以来、毎回平和を願う楽曲の象徴で故郷を想い続けたショパンの作品を。17日はショパンの命日。繰り返される争いの悲劇にポーランドの歴史も思い起こすがゆえに、他のポーランド人音楽家も追い続けています。
+ハマス攻撃に反応したU2をメドレーで。

🚩BGM Piano Performance at Restaurant, Week 3 Oct. 2023
I routinely have my stock of about 50 music scores for BGM per 2 hours. The additional pieces of music for the BGM performance this week are listed as mentioned below.
I performed various works by musicians born in October and TANIMURA Shinji's song in remembrance of him.
Even now, hoping to end Russian aggression to achieve a world where everyone pursues global peace, every time I select the work of Chopin who had thought nostalgically about his homeland, Poland. The 17th is the anniversary of Chopin's death.
I continuously follow other Polish musicians as well, as I also recall Polish history in the tragedy of repeated conflicts and slaughter.
Additionally, I played as a medley the symbolic songs of U2 who immediately responded to the Hamas attack.
– For BGM performance
The only additional pieces –
Méthode des méthodes de piano von Fr.-J.Fétis KK.IIb/3:3つの新しいエチュード

 / Chopin, Died on October 17
Nocturne No.16 Es-Dur Op.55-2:ノクターン第16番 変ホ長調 Op.55-2 / Chopin
Pride(In The Name Of Love) – The Unforgettable Fire – New Year's Day / U2
三都物語* / 谷村新司
✿Mary Poppins Medley*, My Favorite Song(Julie Andrews) – 三都物語*
Polonez do śpiewu – z opery "Nędza uszczęśliwiona" (Maciej Kamieński)
Bridge over Troubled Water:明日に架ける橋(Paul Simon /Ex, Simon & Garfunkel)
Wiegenlied:子守歌 – Chanson Sans Paroles;La Bergeronnette Op.140 (

Dreyschock

)

by YAMAHA GRAND Piano C3//
#ピアノ奏者
#今週のラインナップ
#世界中で
#虐殺
#戦争
#ukraine
#hamasatrocities
#nowar
#noconflict
#peace
#poland
#chopin
#october17
#ショパンの命日
#méthodedesméthodesdepiano
#3つの新しいエチュード
#nocturneno16
#ノクターン第16番
#u2
#prideinthenameoflove
#octoberbirthday
#kamieński
#paulsimon
#bridgeovertroubledwater
#明日に架ける橋
#dreyschock
#子守歌
#chansonsansparoles
#谷村新司さん追悼
#三都物語