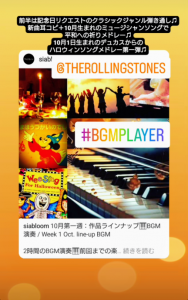 2時間のBGM演奏🎹前回までの楽曲への追加分を掲載してます📝
ウクライナ侵攻が始まって以来、毎回平和を願う楽曲の象徴で故郷を想い続けたショパンの作品に加え、10月生まれのユッスー・ンドゥールとジョン・レノン作品、リリース直後のローリングストーンズ作品をメドレーで🎹
親子連れ様にはデュカスから連想ハロウィン🎃メドレー🎶
ご夫婦の誕生日ディナーにはバースデーソングとスタッフ皆の拍手でお祝い👏
『クラシックが好きなので普通に流してもらえば💦』のリクエストに4月~10月誕生月クラシック音楽家作品を💐
会計時に『最初のラフマニノフですよね!さすがと思いました💖』に感謝(__)どうぞよい一年を🥰
🚩BGM Piano Performance at Restaurant, Week 1 Oct. 2023
I routinely have my stock of about 50 music scores for BGM per 2 hours. The additional pieces of music for the BGM performance this week are listed as mentioned below.
Even now, hoping to end Russian aggression to achieve a world where everyone pursues global peace, every time I select the work of Chopin who had thought nostalgically about his homeland, Poland. Furthermore, I add the songs by notable Youssou N'Dour and John Lennon were born this month respectively, and just released The Rolling Stones' song.
Also, I performed Halloween seasonal pieces, or other works by musicians born in October, etc.
My performance of the birthday song and the restaurant staff's applause could bring a happy time to a couple who enjoyed a birthday celebration dinner.
– For BGM performance
The Request –
Rapsodie sur un theme de Paganini Variation 18, Op.43 / Rakhmaninov ///etc.
The only additional pieces –
L'Apprenti sorcier* (Dukas)
✥Theme medley: Micky Mouse March – Disney Wonder Magic – L'Apprenti sorcier*- THREE SCARECROWS – I'M A PUMPKIN🎃
Shaking The Tree* feat. Peter Gabriel (Youssou N'Dour) 
✥Shaking The Tree* – Verse 1 & 2 "Sweet Sounds Of Heaven* feat. Lady Gaga & Stevie Wonder" / The Rolling Stones – Imagine
Jesus loves me (William Bradbury)
Piesni polskie

1. Idzie żołnierz borem, lasem (

Szymanowski : 3 October birth)
Preludium from Vierzig Clavierstücke Op.43 (Eduard Franck)
Romance sans paroles (Saint

–

Saëns)
by YAMAHA GRAND Piano C3//
#ピアノ奏者
#今週のラインナップ
#nowar
#ukraine
#worldpeace
#chopin
#therollingstones
#ladygaga
#steviewonder
#sweetsoundsofheaven
#18年ぶり新作
#petergabriel
#octoberbirthday
#youssoundour
#johnlennon
#williambradbury
#dukas
#eduardfranck
#saintsaëns
#3october
#szymanowski
#記念日ディナー
#リクエスト受付
#rakhmaninov
#ラフマニノフ
#パガニーニの主題による狂詩曲第18変奏
#ハロウィンメドレー
#halloweensongs
#lapprentisorcier
#魔法使いの弟子