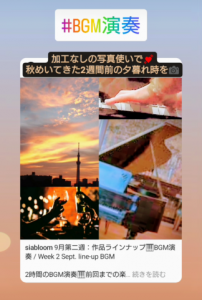 2時間のBGM演奏🎹前回までの楽曲への追加分を掲載します📝
掲載ショットには加工なしのオリジナル写真を📸2週間前の夕暮れ時、秋空に伸びるスカイツリー🗼

ウクライナ侵攻が始まって以来、毎回平和を願う楽曲の象徴で、故郷を想い続けたショパンの作品を🎹
そして、季節の曲やJPOP新曲に、一年ぶりにお目見えした曲とともに9月生まれのミュージシャン作品に、とお届け🎶
🚩BGM Piano Performance at Restaurant, Week 2 Sept. 2023
I routinely have my stock of about 50 music scores for BGM per 2 hours. The additional pieces of music for the BGM performance this week are listed as mentioned below.
I use an original photo w/o processing. TOKYO SKY TREE stretching into the autumn sky at sunset 2 weeks ago.
Even now, hoping to end Russian aggression to achieve a world where everyone pursues global peace, every time I select the work of Chopin who had longed to escape from evacuation status for standing in his homeland, Poland.
Also, I performed seasonal pieces or JPOP new songs and some works by musicians born in September including pieces that I had not presented in a year.
– For BGM performance

The only additional pieces –
Fleurs Animées Pensée Op.57-4

:

生き生きとした花々 考え Op.57-4

(

Theodor Kullak who was born on 12 September.)

Caprice en forme de valse No. 2 D-Dur Op.2-2 (Clara Schumann)
Drei Romanzen Op.21-1: 3つのロマンスop21-1 (Clara Schumann)
Hard Habit To Break* (Peter Cetera)
✥

Hard Habit To Break*

– Glory Of Love – You're the Inspiration
The Show (Nail Horan)
✿In addition to the above, along with works by musicians born in September that have played in the past, notable ones include.
Just Give Me A Reason (P!nk)
Wake Me Up* (Avicii)
✥Wake Me Up* – Don't Wanna Know / Maroon 5 – Workin' Hard / 藤井風
Erinnerung

As-Dur Op.24

: 思い出

変イ長調 Op.24

(Dora Pejačević)
Right Here Waiting (Richard Marx)

By the Sleepy Lagoon: 静かな潟 / Eric Coates – The Seasons, Op.67 Movement XIV Autumn: Petit Adagio / Glazunov
by YAMAHA GRAND Piano C3//
#ピアノ奏者
#今週のラインナップ
#nowar
#ukraine
#平和への祈り
#chopin
#加工なしの空
#スカイツリーのある風景
#september12
#theodorkullak
#テオドールクラック
#septemberbirthdays
#claraschumann
#クララシューマン
#3romanzen
#petercetera
#ピーターセテラ
#nailhoran
#ナイルホーラン
#pinksinger
#avicii
#アヴィーチー
#dorapejačević
#ペヤチェヴィチ
#richardmarx
#リチャードマークス
#藤井風workinhard
#dontwannaknow