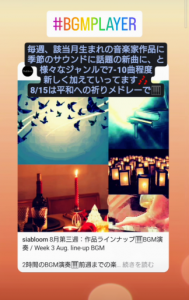 2時間のBGM演奏🎹前週までの楽曲への追加分を掲載します📝

ウクライナ侵攻が始まって以来、毎回平和を願う楽曲の象徴で、故郷を想い続けたショパンの作品を🎹
そして8月15日は終戦記念日で平和への願いを込めた選曲とともに、8月生まれの音楽家作品とJPOP新曲や季節曲中心に🎶
昨晩は二組のバースデーディナーで、バースデーソングとレストランスタッフの拍手でお祝い👏🎉🎂お二方とも髭男の「I LOVE…」のリクエストで新曲#Chessboardとセットで💡喜んでいただきよかったです😊是非またお越し下さい✋
来週はレストラン休館日で次は二週間後です📝
🚩BGM Piano Performance at Restaurant, Week 3 Aug. 2023
I routinely have my stock of about 50 music scores for BGM per 2 hours. The additional pieces of music for the BGM performance this week are listed as mentioned below.
Still now, hoping to end Russian aggression to achieve a world where everyone pursues global peace, every time I select the work of Chopin who had longed to escape from evacuation status for standing in his homeland, Poland.
And on August 15th, Japan marked the 78-anniversary end of World War Two to commemorate War Dead and Pray for Peace.
Also, I shall choose pieces of music that reflect my wish for peace, along with my performance of works by musicians born in August, some new JPOP songs, and seasonal pieces.
We had two birthday celebrations last night. My birthday song performance and applause from the restaurant staff made the diners feel happy.
– For BGM performance
 Request –
I LOVE… – Chessboard (藤原聡 / Official髭男dism)

The only additional pieces –
6 Stammbuchblätter Op.71 | 6. Andenken: Souvenir (Salomon Jadassohn)

My Heart Will Go On (James Horner)

My Foolish Heart (Ned Washington: He was born on Aug. 15. & Victor Young)
What You Won't Do for Love – Heart of Mine (

Bobby Caldwell

: He was born on Aug. 15.)
Les trois chansons (Gabriel Pierné) 
Berceuse de Jocelyn (

Benjamin Godard

)*
✿ PEACE Medley


Where have all the flowers gone?: 花はどこへ行った? –

Berceuse de Jocelyn (

Benjamin Godard

)*

– Imagine – Danny Boy

#ピアノ奏者
#nowar
#8月15日
#終戦
#全国戦没者追悼式
#ukraine
#平和への祈り
#chopin
#8月生まれ
#藤原聡
#リクエストにお応えして
#髭男ilove
#新曲
#chessboard
#みんなのうた
#90回nコン
#benjamingodard
#wherehavealltheflowersgone
#花はどこへ行った
#berceusedejocelyn
#imaginejohnlennon
#dannyboy
#salomonjadassohn
#jameshorner
#myheartwillgoon
#gabrielpierné
#august15
#nedwashington
#bobbycaldwell