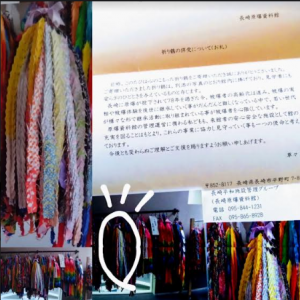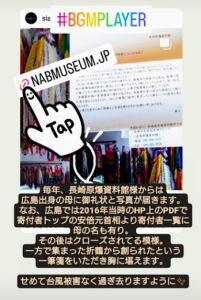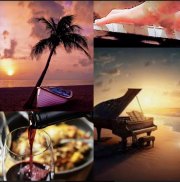 2時間のBGM演奏🎹前週までの楽曲への追加分を掲載します📝

ウクライナ侵攻が始まって以来、毎回平和を願う楽曲の象徴で、故郷を想い続けたショパンの作品を🎹
加えて、今週はヒロシマとナガサキへの原爆投下の日があり平和への願いを込めた選曲で🌻客層をみてシックな8月生まれの音楽家作品や季節曲中心に🎶
📝写真は手伝いで母を訪ねた当日に長崎原爆資料館から届いた折鶴&寄付の御礼状&昨晩のBGMムードをイメージ
【母が折鶴の会を始めた経緯他、両親から伝え聞く戦争に関する過去ブログ一覧】
https://www.siabloom.org/news/4918
https://www.siabloom.org/news/4932
https://www.siabloom.org/news/3099
🚩BGM Piano Performance at Restaurant, Week 2 Aug. 2023
I routinely have my stock of about 50 music scores for BGM per 2 hours. The additional pieces of music for the BGM performance this week are listed as mentioned below.
Still now, hoping to end Russian aggression to achieve a world where everyone pursues global peace, every time I select the work of Chopin who had longed to escape from evacuation status for standing in his homeland, Poland.
In addition, between the dates of the atomic bombings of Hiroshima and Nagasaki, I shall choose pieces of music that reflect my wish for peace, along with my performance of works by musicians born in August and seasonal pieces in a generally chic atmosphere to suit the diners.
The photo shows a thanks letter for the origami crane with the donation that arrived from Nagasaki in July.
 As above, the list of previous blogs about how my mother started the origami crane voluntary group and storytelling of the war as my parents told me.
– For BGM performance 

The only additional pieces –
Romance in D Op.137 (Chaminade: She was born on Aug. 8.)
Blue Star (Young: He was born on Aug. 8.)
I Can See Clearly Now (Jonny Nash)
✿In addition to the above, previously performed works of musicians whose birthday was in August and medley for peace is as follows.
Greatest Love Of All (Whitney Houston)
Waltz for Debby (Bill Evans)
PEACE Medley
折り紙: Origami(Andre Gagnon) – ひまわり / Henry Mancini – クスノキ / 福山雅治 – 花~すべての人の心に花を
by YAMAHA GRAND Piano C3//
#nowar
#peaceforall
#折鶴
#長崎原爆資料館
#ukraine
#ひまわり
#chopin
#ショパン
#hiroshima 
#nagasaki 
#atomicbomb
#長崎原爆
#広島原爆
#原爆
#唯一の被爆国
#1945年8月6日
#1945年8月9日
#反戦歌
#antiwarsong
#被曝クスノキ
#福山雅治
#花すべての人の心に花を
#8月8日生まれ
#cecilechaminade
#victoryoung
#8月生まれの音楽家
#andregagnon
#whitneyhouston
#billevans
#jonnynash