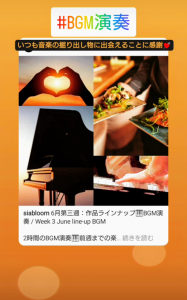 2時間のBGM演奏🎹前週までの楽曲への追加分を掲載します📝
今週も、6月生まれの音楽家作品の合間合間に季節曲を(^^♪
毎回、平和を願う楽曲ではウクライナ出身のボルトキエヴィチと故郷に戻りたいと切望したショパン作品も🎹
🚩BGM Piano Performance at Restaurant, Week 3 June 2023

I routinely have my stock of about 50 music scores for BGM per 2 hours. The additional pieces of music for the BGM performance this week are listed as mentioned below.
Continuing this week, I played a selection of works by musicians born in June, and in between, seasonal pieces were added.

And still, continuous anger and sympathy for sacrifice draw many works to hope to end Russian aggression to achieve a world where everyone pursues global peace. 
Also, every time I select the work of Chopin who had longed to escape from evacuation status for standing in his homeland, Poland. Furthermore, ones by Bortkiewicz, a Ukrainian composer, have been also added.
– For BGM performance
The only additional pieces –

L'aigle noir :黒いワシ (Barbara)
Windows (Chick Corea)

Lyriske smastykker No.10 "Sommeraften" Op.71-2: 夏の夕べ

 (

Grieg

)
Mandy :哀しみのマンディ (

Barry Manilow

)

Could It Be Magic

:恋はマジック (

Barry Manilow

)
✿In addition to the above, the previously performed works of the musicians whose birthday was in June are as follows.
Purple Rain (Prince)
It's a Small World (Richard Sherman)

24 préludes Prelude No.20 c-moll Op.28-20

/

Chopin
by YAMAHA GRAND Piano C3//

#bgm演奏
#レストラン演奏
#nowar
#борткевич
#ukraine
#平和への祈り
#chopin
#preludeno20
#6月生まれ
#barrymanilow
#ショパンをモチーフ
#恋はマジック
#哀しみのマンディ
#barbara
#黒い鷲
#prince
#richardsherman
#chickcorea
#windows
#grieg
#sommeraften
#夏の夕べ
#ピアノ奏者