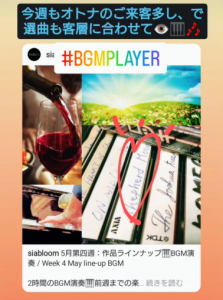 2時間のBGM演奏🎹前週までの楽曲への追加分を掲載します📝
今週も、季節の花にまつわるたくさんの歌とともに5月生まれのミュージシャンの作品が続きます。
掲載ショットは二週連続、以前も取り出した若い頃のカセットテープから、先週のU2のお隣に置いたのはー Enyaの誕生日到来で去年と違う、Enyaといえば本来こちらが先だった😙一曲を♬90年代初頭はCDも買ってダビングもした時期らしい…。
毎回、平和を願う楽曲ではウクライナ出身のボルトキエヴィチと故郷に戻りたいと切望したショパン作品も🎹
🚩BGM Piano Performance at Restaurant, Week 4 May 2023

I routinely have my stock of about 50 music scores for BGM per 2 hours. The additional pieces of music for the BGM performance this week are listed as mentioned below.
I pick up many works featuring seasonal flowers and musicians whose birthdays were in May.
In honor of Enya's birthday, today's shot is her's from the pile of cassette tapes I recorded in the 90s, which I have shown before.
And still, continuous anger and sympathy for sacrifice draw many works to hope to end Russian aggression to achieve a world where everyone pursues global peace. 
Also, every time I select the work of Chopin who had longed to escape from evacuation status for standing in his homeland, Poland. Furthermore, ones by Bortkiewicz, a Ukrainian composer, have been also added.
– For BGM performance
The only additional pieces –

11 Chorale Preludes, Op. 122: No. 8. Es ist ein Ros' entsprungen arr. Busoni for piano (Brahms) 
Caribbean Blue (Enya)
Klavierstück (sogenanntes Albumblatt für E. B. Kietz "Lied ohne Worte") E-Dur WWV64 (Wagner)
Der Engel, Wesendonk Lieder WWV91 (Wagner)
Gotta serve somebody (Bob Dylan) 
✿In addition to the above, the previously performed work of the musician whose birthday was in May is as follows. 
・Pavane, Op.50 (Fauré)
・Stay With Me (Sam Smith)
・Tannhäuser overture:タンホイザー序曲~美しく響くピアノソロver.~ (Wagner)

by YAMAHA GRAND Piano C3//
#bgm演奏
#レストラン演奏
#nowar
#борткевич
#ukraine
#平和への祈り
#chopin
#ショパン
#maybirthdays
#5月生まれ
#クラシック音楽
#コラール
#ピアノ曲
#歌曲
#管弦楽
#brahms
#arrbusoni
#chorale
#wagner
#WWV64
#wesendonklieder
#tannhäuseroverture
#fauré
#pavaneop50
#洋楽
#enya
#shepherdmoonsenya
#samsmith
#may24born👸
#bobdylan