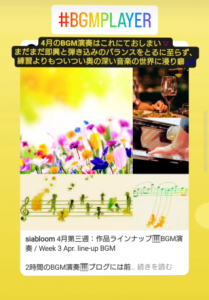 2時間のBGM演奏🎹ブログには前週までの楽曲への追加分を掲載してます📝
JPOP新作と4月生まれの音楽家作品の一部は季節メドレーで💡&今月で生誕150周年を迎えたラフマニノフの楽曲は毎週欠かさず登場で(^^♪
毎回、平和を願う楽曲ではウクライナ出身のボルトキエヴィチと故郷に戻りたいと切望したショパン作品を🎹
🚩BGM Piano Performance at Restaurant, Week 4 Apr. 2023
I routinely have my stock of about 50 music scores for BGM per 2 hours. The additional pieces of music for the BGM performance this week are listed as mentioned below.
Both a new JPOP hit song and some works of musicians whose birthdays in April were put between the seasonal music medley pieces. In addition, Rachmaninoff's music, which celebrates the 150th anniversary of his birth this month, has appeared weekly without fail.
And still, continuous anger and sympathy for sacrifice draw many works to hope to end Russian aggression to achieve a world where everyone pursues global peace. 
Also, every time I select the work of Chopin who had longed to escape from evacuation status for standing in his homeland, Poland. Furthermore, ones by Bortkiewicz, a Ukrainian composer, have been also added.
– For BGM performance
The only additional pieces –

From Rachmaninov Piano Concerto No.2 Op.18 1st mov Piano Solo arr. by Shinjiro Mita):ひとりラフマニノフピアノ協奏曲第二番第一楽章 より (Rachmaninov) 

"Fragments" op. posth

(

Rachmaninov) 

Lilacs*: リラの花 (Rachmaninov)

Aprile* (Tosti)

From  Best hits* (Bjorn Ulvaeus: He is 78 years old on 25 April, today(UTC). Happy Birthday🎉👏/ ABBA)


愛の花* / あいみょん
✿Aprile* – Happy (Pharrell Williams) – ハナミズキ – La Vie en rose – Lilacs* – 愛の花* – Edelweiss – My Favorite Things – Moon River (Henry Mancini) – Dansing Queen- Super Trouper* – Chiquitita*

Impromptu (Tailleferre)

10 Pieces from 'Romeo and Juliet' Op.75- 6 main part & 7 (Prokof'ev)
by YAMAHA GRAND Piano C3//
#nowar
#борткевич
#ukraine
#平和への祈り
#chopin
#ショパン
#aprilbirthdays
#4月生まれ
#rachmaninov
#ラフマニノフ
#rachmaninov150
#ラフマニノフ生誕150年
#tosti
#トスティ
#april25
#björnulvaeus
#abba
#abbahits
#pharrellwilliams
#henrymancini
#tailleferre
#タイユフェール
#女性作曲家
#prokofiev
#プロコフィエフ
#JPOP
#あいみょん
#愛の花
#レストラン演奏
#bgmplayer