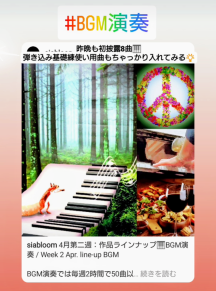 BGM演奏では毎週2時間で50曲以上を準備しています。以下↓に前週までの楽曲への追加分を列挙します📝
今週金曜公開の映画コナンの主題歌を含む新曲JPOPに、今月来日のアーティストたちのヒットソングに、4月生まれの音楽家作品を🎹
全ての人が平和を望む世界を願う楽曲では、毎回のウクライナ出身のボルトキエヴィチに故郷に戻りたいと切望したショパンに加え、来日中のボブ・ディランも🎹
🚩BGM Piano Performance at Restaurant, Week 2 Apr. 2023
I routinely have my stock of about 50 music scores for BGM per 2 hours. The additional pieces of music for the BGM performance this week are listed as mentioned below.
I selected new JPOP songs including the theme song of Detective Conan's movie to be released this Friday, hit songs by artists to live in Japan this month as well as the works of musicians whose birthdays were in April.
And still, continuous anger and sympathy for sacrifice draw many works to hope to end Russian aggression to achieve a world where everyone pursues global peace. 
Also, every time I select the work of Chopin who had longed to escape from evacuation status for standing in his homeland, Poland. Furthermore, ones by Bortkiewicz, a Ukrainian composer, have been also added.
– For BGM performance
The only additional pieces –

Morceaux de fantaisie "Melodie" E-Dur Op.3-3 

(

Rakhmaninov)

Vocalise (Rachmaninov Piano Solo Ver. arr. by Toda Ai) : ヴォカリーズ(原曲:ラフマニノフ ピアノ・ソロ版 戸田愛編) (Rachmaninov)

24 Preludes, Op. 37: No. 8 (Busoni)

Ideale (Tosti)

Romance Sans Paroles (Félicien David)

美しい鰭
そんなbitterな話
Tears in Heaven* / Eric Clapton
*This song was performed after "Change the World" picked up last month.
✿In addition to the above, the particularly noteworthy previously performed music is Blowin' in the Wind by Bob Dylan currently performing his tour event in Tokyo.
by YAMAHA GRAND Piano C3//
#nowar
#борткевич
#ukraine
#myanmarsituation
#平和への祈り
#chopin
#ショパン
#bobdylanmusic
#blowininthewind
#ボブディラン来日
#4月来日
#ericclapton
#エリッククラプトン
#aprilbirthdays
#rakhmaninov
#morceauxdefantaisie
#melodie
#幻想的小品集
#rachmaninov
#vocalize
#美しく響くピアノソロ
#busoni
#ブゾーニ
#tosti
#トスティ
#féliciendavid
#美しい鰭
#名探偵コナン黒鉄の魚影
#そんなbitterな話
#レストラン演奏