ラウンジ演奏では御来客の皆様やラウンジボーカリスト、サックス奏者からのリクエストに応じたピアノ演奏や歌伴奏を、レストランでは心地よいサウンドをお届けすることを意識してBGM演奏をしています(^^♪
BGM演奏では毎回2時間で50曲程度準備しています。ラウンジ演奏はその場その場で変わります。
BGM演奏については今週からは追加分の楽曲をここに列挙します。
🚩Piano Performance at Piano Lounge and BGM Piano Performance at Restaurant, Week 5 Oct. 2021
At the piano lounge, I give piano performances and accompaniments in response to old customers, vocalists, and saxophone players.
At the restaurant, I perform background music to be conscious of making comfortable sounds for people to listen to. 
I routinely have my stock of about 50 music scores for BGM per 2 hours. At the piano lounge, I perform the piano accordingly. From now on, the additional pieces of music for BGM performance are listed as mentioned below.
– For BGM performance –
ツバメ

(YOASOBI with ミドリーズ)

I LOVE…
Loving you
Superstar
Shall we dance
Blue skies
紅葉
Second Waltz (Shostakovich)
Smile
by YAMAHA GRAND Piano C3//
– For lounge performance –

Piano man (wirh an old customer)

Nella Fantasia

Love Theme from St. Elmo's Fire

Amazing Grace (Solo / wirh vocalist / with Saxophone)

糸 (wirh Saxophone)
by Atlas Piano//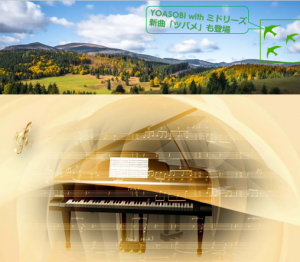 #pianoplayer
#allgenres 
#pianoaccompaniment 
#pianolounge
#loungepianist
#bgmplayer
#pianolive
#onlineconcert
#onlinerecital
#concert
#recital
#ピアノ奏者
#オールジャンル
#伴奏者
#ラウンジ演奏
#ラウンジピアニスト
#bgm演奏
#レストラン演奏 
#生演奏
#オンライン演奏
#訪問演奏
#出張演奏
#音楽のある生活
#jpop
#yoasobi
#新曲
#ツバメ