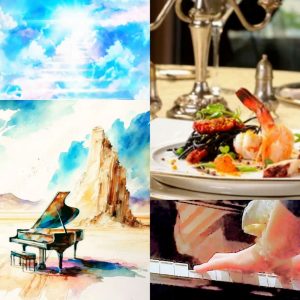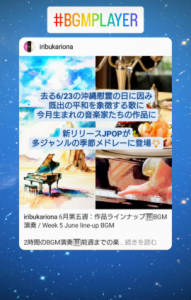 2時間のBGM演奏🎹前週までの楽曲への追加分を掲載します📝
今週も6月生まれの音楽家作品を取り上げるとともに、合間合間にリリースしたばかりのJPOP新曲や季節曲を(^^♪
毎回、平和を願う楽曲ではウクライナ出身のボルトキエヴィチと故郷に戻りたいと切望したショパン作品も。さらに6月23日の沖縄慰霊の日を迎え、78年前の追悼の意を込めて平和を象徴する歌から1曲🎹
🚩BGM Piano Performance at Restaurant, Week 5 June 2023

I routinely have my stock of about 50 music scores for BGM per 2 hours. The additional pieces of music for the BGM performance this week are listed as mentioned below.
Continuing this week, I played a selection of works by musicians born in June, and in between, some newly released JPOP songs or seasonal pieces were added.

And still, continuous anger and sympathy for sacrifice draw many works to hope to end Russian aggression to achieve a world where everyone pursues global peace. 
Also, every time I select the work of Chopin who had longed to escape from evacuation status for standing in his homeland, Poland. Furthermore, ones by Bortkiewicz, a Ukrainian composer, have been also added.
Furthermore, since June 23 marked Okinawa's Memorial Day, I played one of the songs that symbolize peace with the intention of mourning 78 years ago.
– For BGM performance
6 Lieder, Op.1 – Die Wasserrose (Heinrich von Herzogenberg)
Time After Time (

Cyndi Lauper

)
Zehn Fantasiestücke, Op.17 No.10 Romance: 幻想小曲集 ロマンチェ (Carl Reinecke)
Music Box Dancer* (

Frank Mills

: He is 81 years old on June 27. Happy Birthday🎉👏

)
Dance the Night* / Dua Lipa
Magic* / Mrs. GREEN APPLE
月を見ていた* / 米津玄師
*These songs are performed between seasonal medley pieces.
Part of Your World – 君の知らない物語 – 青と夏 – Magic* – Disney Wonder Magic introduction –  Music Box Dancer* – Dance the Night* – 月を見ていた* – Liederkreis, Op. 39, No. 5. Mondnacht:月夜 (

Schumann)
✿In addition to the above, the previously performed noteworthy works are as follows.
花〜すべての人の心に花を〜* (喜納昌吉) *As one of the most famous peace songs
ル・ローヌ
#bgm演奏
#nowar
#борткевич
#ukraine
#平和への祈り
#chopin
#沖縄慰霊の日
#花すべての人の心に花を
#6月生まれ
#schumann
#リーダークライス作品39
#喜納昌吉
#heinrichvonherzogenberg
#cyndilauper
#シンディローパー
#reinecke
#ライネッケ
#幻想小曲集
#june27
#frankmills
#愛のオルゴール
#洋楽
#dualipa
#dancethenight
#新リリース
#夏に聴きたい
#mrsgreenapple
#米津玄師
#月を見ていた
#ピアノ奏者