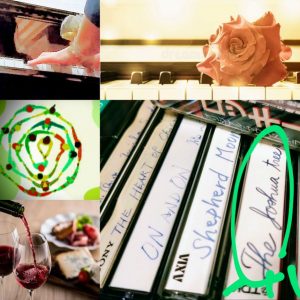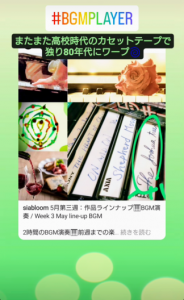 2時間のBGM演奏🎹前週までの楽曲への追加分を掲載します📝
5月生まれのミュージシャンの作品が続きます。
掲載ショットには以前も取り出した高校時代のカセットテープからー Bonoの誕生日到来でU2を。当時もコレは歴史に残る❣と盛んに宣伝されてLPを買いました😅この3月には過去の名曲を新録リリースとあって各局ラジオから懐かしの名曲が流れてました😊
毎回、平和を願う楽曲ではウクライナ出身のボルトキエヴィチと故郷に戻りたいと切望したショパン作品も🎹
近くで赤ちゃんが泣き止まない声にブラームスの❝愛のワルツ❞を(店外のため客層からも子守歌ではなく(^_-))
🚩BGM Piano Performance at Restaurant, Week 3 May 2023

I routinely have my stock of about 50 music scores for BGM per 2 hours. The additional pieces of music for the BGM performance this week are listed as mentioned below.
I pick up many works of musicians whose birthdays were in May.
In honor of Bono's birthday, today's shot is of U2 from the pile of cassette tapes I recorded in high school days, which I have shown before. At the time, this was being heavily advertised as being historic, so I bought the LP as well.
This past March, U2 was timing the release of a new recording of their 40 best songs, and the radio stations were playing their old favorites.
And still, continuous anger and sympathy for sacrifice draw many works to hope to end Russian aggression to achieve a world where everyone pursues global peace. 
Also, every time I select the work of Chopin who had longed to escape from evacuation status for standing in his homeland, Poland. Furthermore, ones by Bortkiewicz, a Ukrainian composer, have been also added.
– For BGM performance
The only additional pieces –

New York City Serenade (Christopher Cross, Burt Bacharach) 
Symphony No.5 2nd Movements op.64:交響曲第5番第2楽章 ジャズ版 (Tchaikovsky)
With or Without You (Bono/U2)
Raindrops Keep Fallin' On My Head:雨にぬれても (Burt Bacharach)
✿In addition to the above, the previously performed work of the musician whose birthday was in May is as follows. 
・Walzer Op.39-15 (Brahms)
・Méditation de Thais:タイスの瞑想曲 (Massenet)
・You Are The Sunshine Of My Life (Stevie Wonder)
・Je te veux (Satie)

by YAMAHA GRAND Piano C3//
#bgm演奏
#レストラン演奏
#nowar
#борткевич
#ukraine
#平和への祈り
#chopin
#ショパン
#maybirthdays
#5月生まれ
#ピアノ曲
#管弦楽
#歌曲
#brahms
#tchaikovsky
#symphonyno5
#稲森康利
#massenet
#satie
#洋楽
#christophercross
#newyorkcityserenade
#bono
#u2
#joshuatree
#burtbacharach
#raindropskeepfallinonmyhead
#steviewonder